It's not like you need anymore reasons to drink wine, right? Well, in case you do CorkGuru has got you covered. Here are 21 outstanding reasons to drink more wine. Cheers!
1. Because it'll help you lose weight.
According to a study out of Washington State University, wine and weight loss go hand-in-hand, thanks to a substance called resveratrol, which is found in red wine. Resveratrol was shown to help convert "white fat" into "beige fat." (The latter is easier to burn off.)
2. Because you need a serving of fruit every day.
3. Because it pairs well with… well, everything.
4. Because it's so good for you.
Evidence has proven that moderate drinking is better for your health than abstaining from alcohol completely.
5. Because the polyphenols in red wine can help prevent gum disease.
So, we can assume that 4 out of 5 dentists recommend. Cheers!
6. Because drinking wine can reduce the risk of depression.
According to a study in the BMC Medical Journal, two to seven glasses of wine a week 'may reduce depression.'
7. Because wine can reduce your risk of cancer.
Red wine can slow the growth of breast and prostrate cancer cells, and can help ward off oral cancer.
8. Because drinking wine lowers your risk of heart disease.
According to the Mayo Clinic. It's science. Pass the Merlot, please.
9. Because it's the perfect way to unwind and relax.
10. Because it keeps your skin healthy.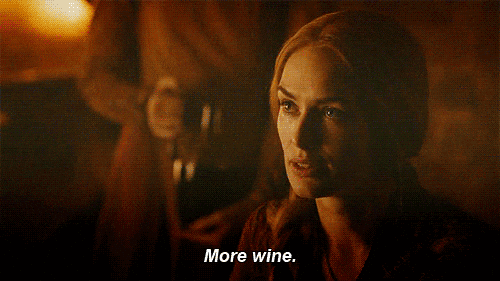 The antioxidants in wine can help reduce the development of wrinkles and fine lines, improving your overall appearance. Forgot the facial – grab the wine.
11. Because you'll live longer.
A Finnish study of 2,468 men over a 29-year period found that wine drinkers have a 34 percent lower mortality rate than beer or spirits drinkers.
12. Because what other beverage has so many amazing glasses?
13. Because wine keeps your memory sharp.
According to a study done at Columbia University, "Brain function declines at a markedly faster rate in nondrinkers than in moderate drinkers."
14. Because it can reduce your risk of developing type II diabetes.
According to a study done at VU University Medical Center, moderate drinkers have 30 percent less risk than nondrinkers of developing type 2 diabetes.
15. Because wine corks are perfect for crafting.
16. Because you can't buy happiness, but you can buy wine and that's basically the same thing.
17. Because it offers antioxidants, probiotics, and a steady buzz.

18. Because a glass of red wine is equivalent to an hour at the gym.
Research conducted by the University of Alberta in Canada found that health benefits in resveratrol, a compound found in red wine, are similar to those we get from exercise.
19. Because you can buy it by the box.
20. Because drinking wine is fun and classy.
21. Because you want to and you don't need a reason.